Interview with Douglas Gunn by Isy Runsewe, Kingpins Shop
Growing up in the suburbs of London, I spent many a weekend going to boot fairs and antique shows with my parents. I love the musty smell of these places, rifling through dusty trinkets and finding treasures that you know someone else has used or worn before you, had experiences in, created memories in. I feel the same about furniture and rarely buy anything new. So I get it, I totally get it with vintage clothes and I know I'm not alone.

Speaking to Andrew Olah (founder of Kingpins Show) earlier this week and we were talking about his ideal jeans customer and he surprised me by saying the guy who buys one pair of jeans and wears them a lifetime. Wears them to death, rarely washing them so they crease in only places that work for you and your shape and your particular walk. I love that. The idea of cherishing an item of clothing for that long.

I have been wanting to speak to Doug since I saw his interview with Andrew for Kingpins24 (in case you weren't aware Kingpins Show turned virtual and it's awesome). The natural banter between them both was a joy to watch and I knew I needed to know more.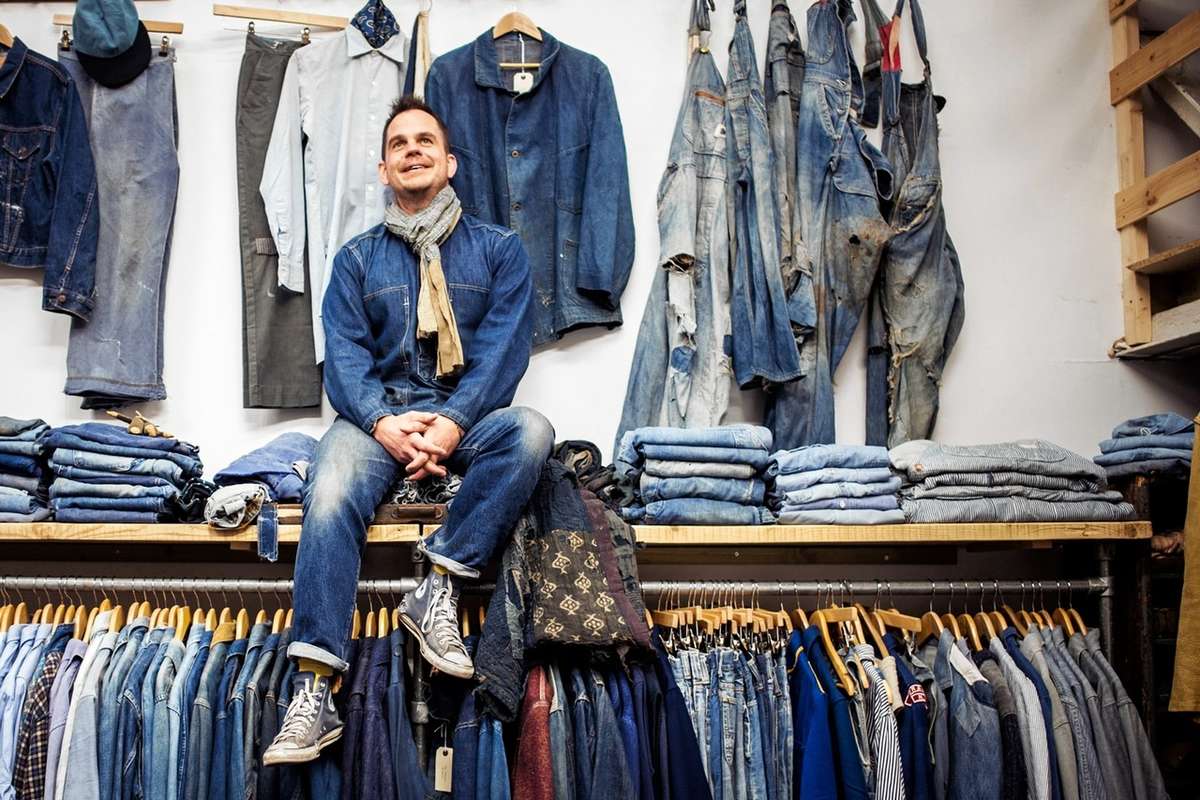 So Doug, let's start at the beginning - how did The Vintage Showroom start?
Both Roy and I had our own vintage businesses already. He had had a number of successful shops over the years and was just coming to the end of a lease in Camden. I had just come out of a few years of running vintage concessions in Selfridges and had been consulting for a few different designers. I think we were both ready for a new challenge. The plan was to set up a working archive with the focus on providing services for brands and designers, and everything just grew from there. We'd saved up enough money to make it through a few month's rent so we just gave it a go!

Image copyright Amy Leverton, Denim Dudes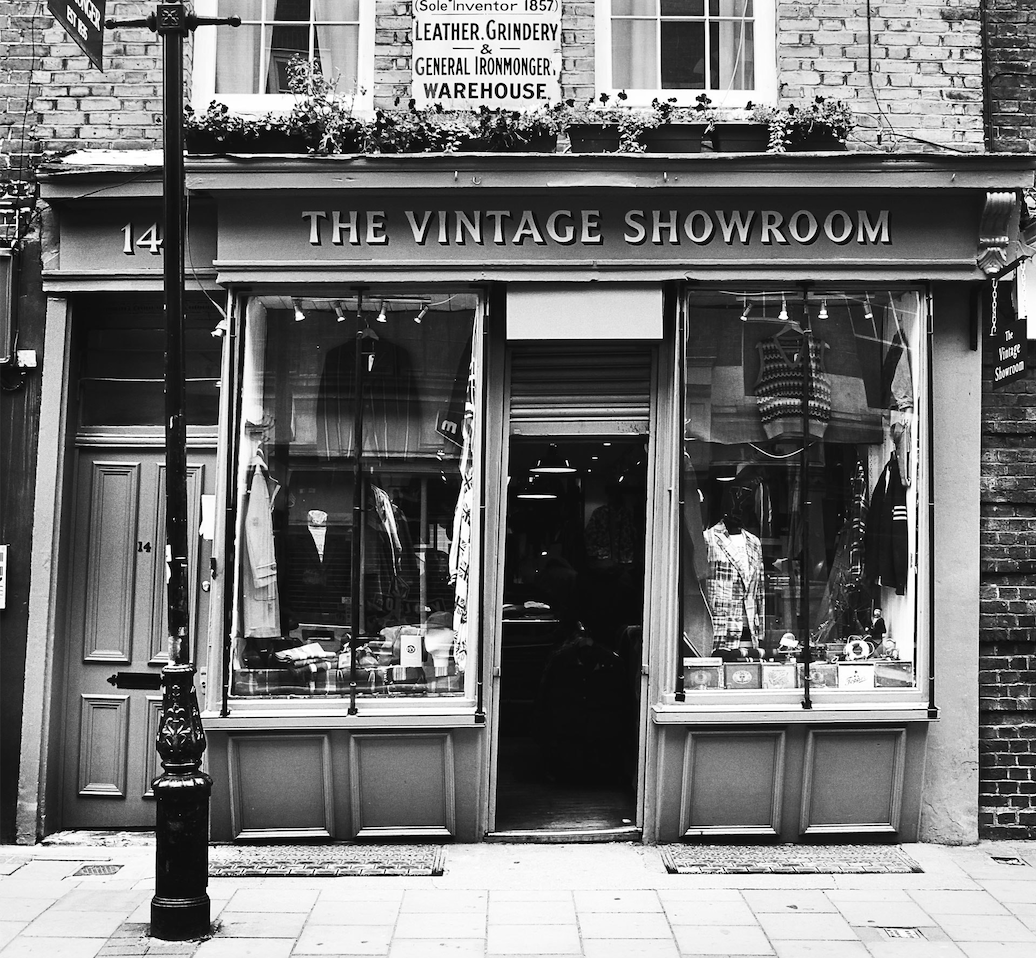 I've always wondered, what exactly makes something 'vintage'?
When a dealer buys a piece, it is second hand and when they sell it - it's vintage. That may sound like a joke but in truth the term "vintage" has been so over used it's almost worthless as a definition. Anything second-hand now gets tagged "vintage". I don't really have a problem with that and I think that people buying more and more used clothing is a really positive thing, especially in terms of sustainability and trying to build a circular economy. However people should be aware there is vintage and then there is vintage. We source and sell beautiful collectables, we don't necessarily define our collection with parameters but every piece has to stand up, every piece has to have a reason for making the collection. So what makes something vintage? I don't really know, but maybe we should ban the word for a while and think of a better one.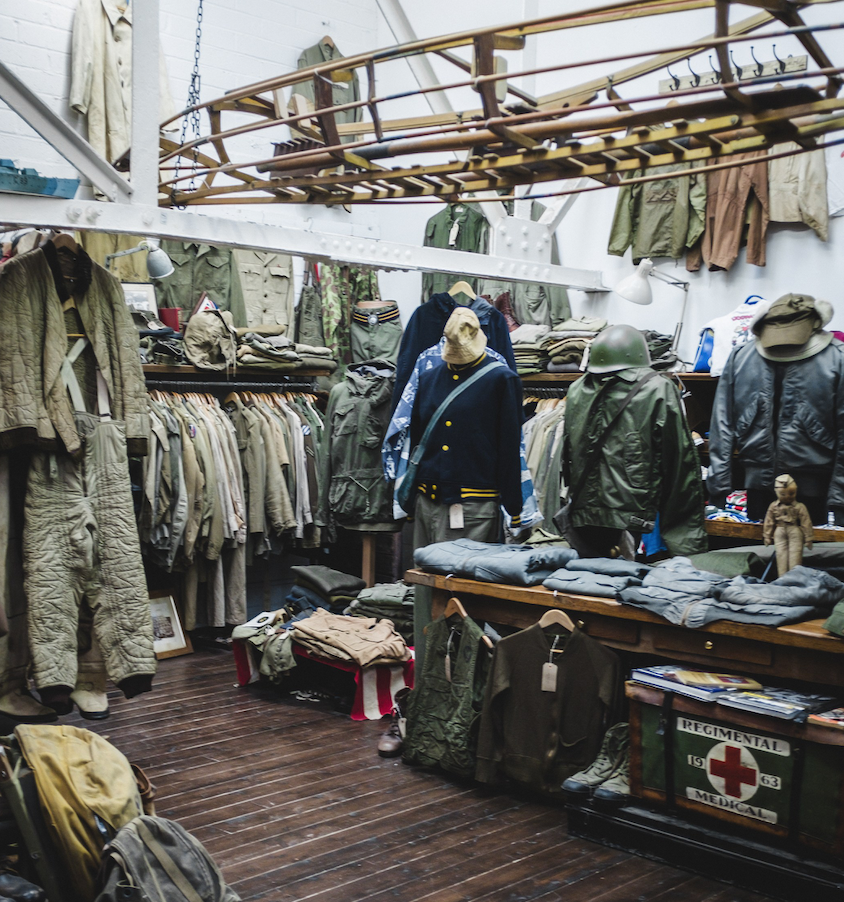 I think what can be quite off-putting with buying vintage is the price tag. How do you really determine the price of something vintage?
That's a great question. The first thing to remember, is just how much effort has gone in to sourcing that piece you purchase. The shop owner can't just re-order another one when it sells. Good quality shops, with a curated selection, they have to hunt for stock. Why is a line caught fish more expensive than something that is farmed or trawled for? Some places that sell vintage are like the industrial fishermen of used clothing, they catch it all and stick it out and don't know the tasty catches from the junk. Sure you can go in and find the odd great piece amongst the racks if you're lucky, but there is no real passion for what they are selling, its just another commodity. I have no problem with this, and again they have their part to play in keeping used clothing getting
recycled back into peoples wardrobes and away from landfill, but this isn't what we do.

Then you have the collector/dealers around the world who find beautiful things and present them in beautifully curated stores, whether in Amsterdam, New York, Tokyo, Paris or London- people that are extremely passionate about what they do and try to find and sell amazing one off things. I'd like to hope we fall into this camp.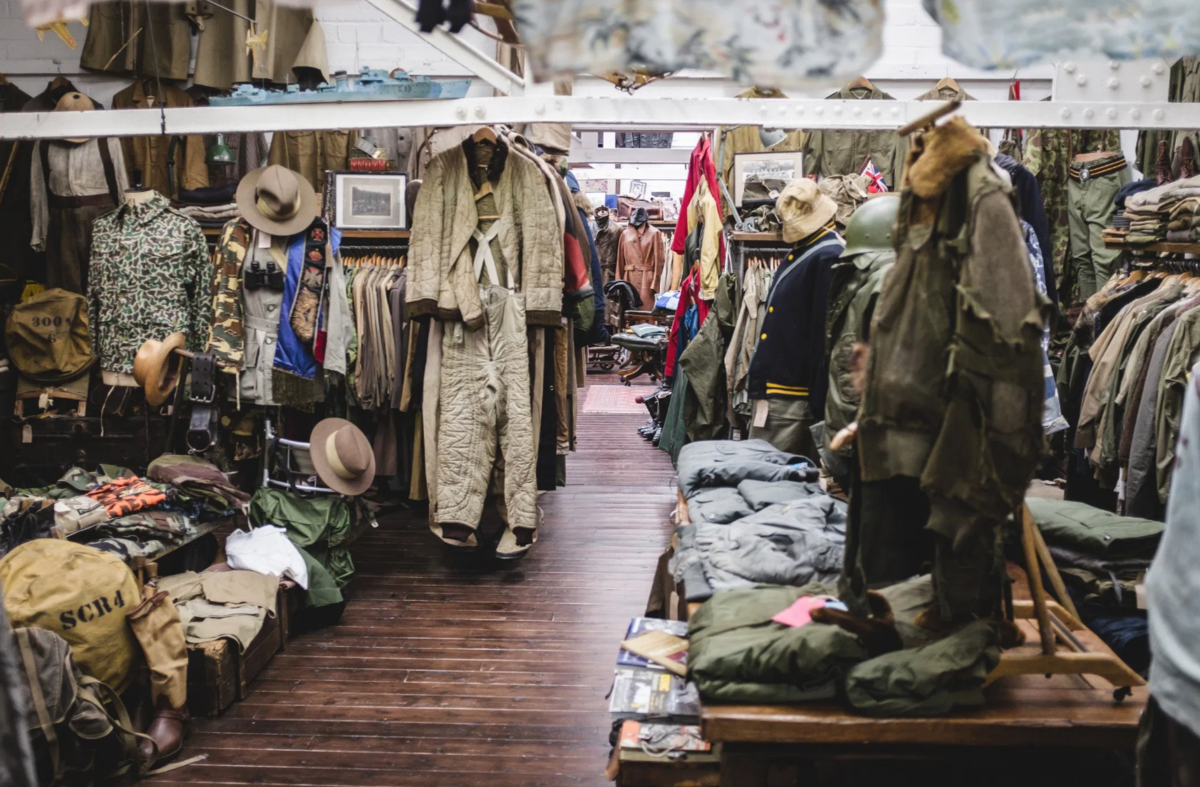 Where do you source most of your collection? Or is that a trade secret?!
We have a network of people that we have bought from for a long time. We are easy guys to deal with, polite and tidy, never ask for credit, always say thank you - we just expect honesty and trust from our partners. I can't buy from someone I don't trust no matter how good what they have to offer is. There will always be some people you just can't work with, they get greedy, talk too much, try and cut deals around the back of you. Business doesn't have to be like that, there should be enough food on the table for everyone - there's plenty to go around.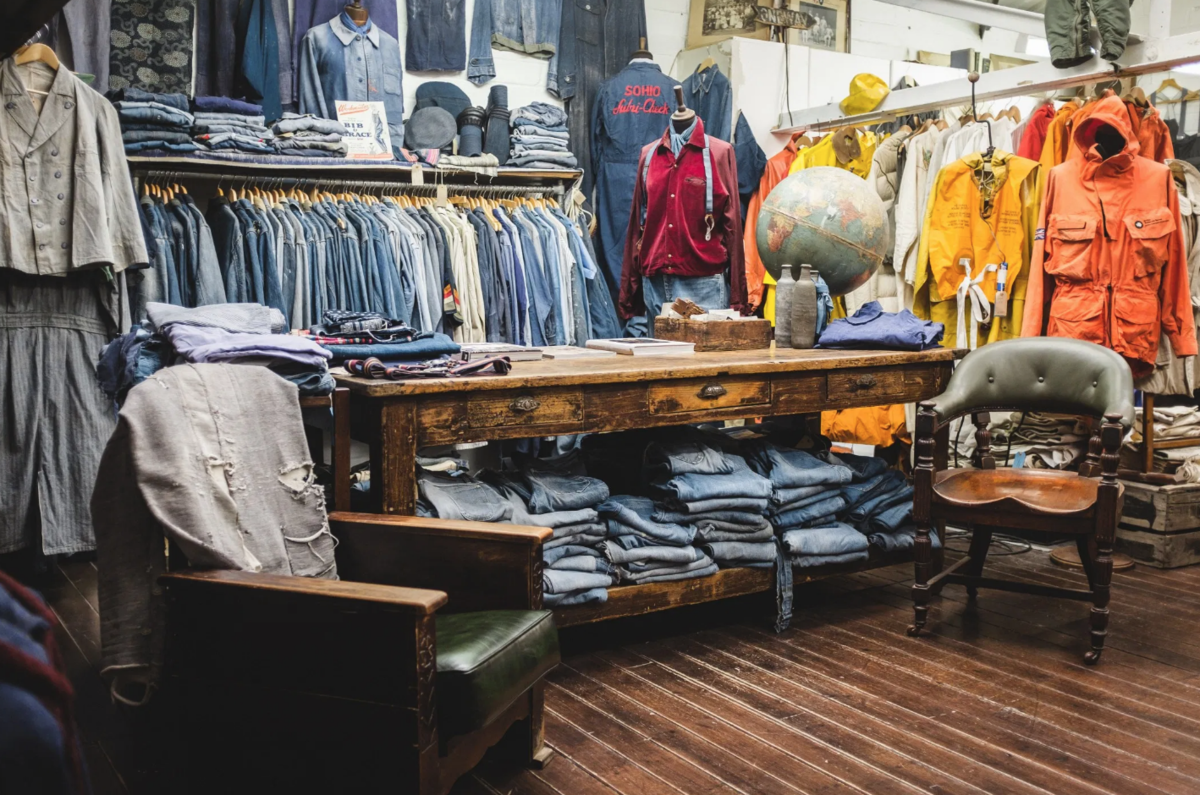 Is there one piece in your collection that is particularly special or important to you?
I started buying vintage around 20 years ago as a business. When I started I would use a garage at my mums house to store my stock and my mum and Uncle would go in and laugh at all the junk I had been buying. For 20 years my Uncle tried to sell me this leather jacket he had but I would always say it wasn't quite old enough yet and try again next time (it became a running joke between us). Sadly he passed away last year and I have just found out that he left me that jacket in his will. I bet he is laughing somewhere about that! I am going to get it framed and put it in our archive, it will definitely be for display purposes only. A horrendous jacket by the way but I miss him and his sense of humor - it finally made the grade Uncle David!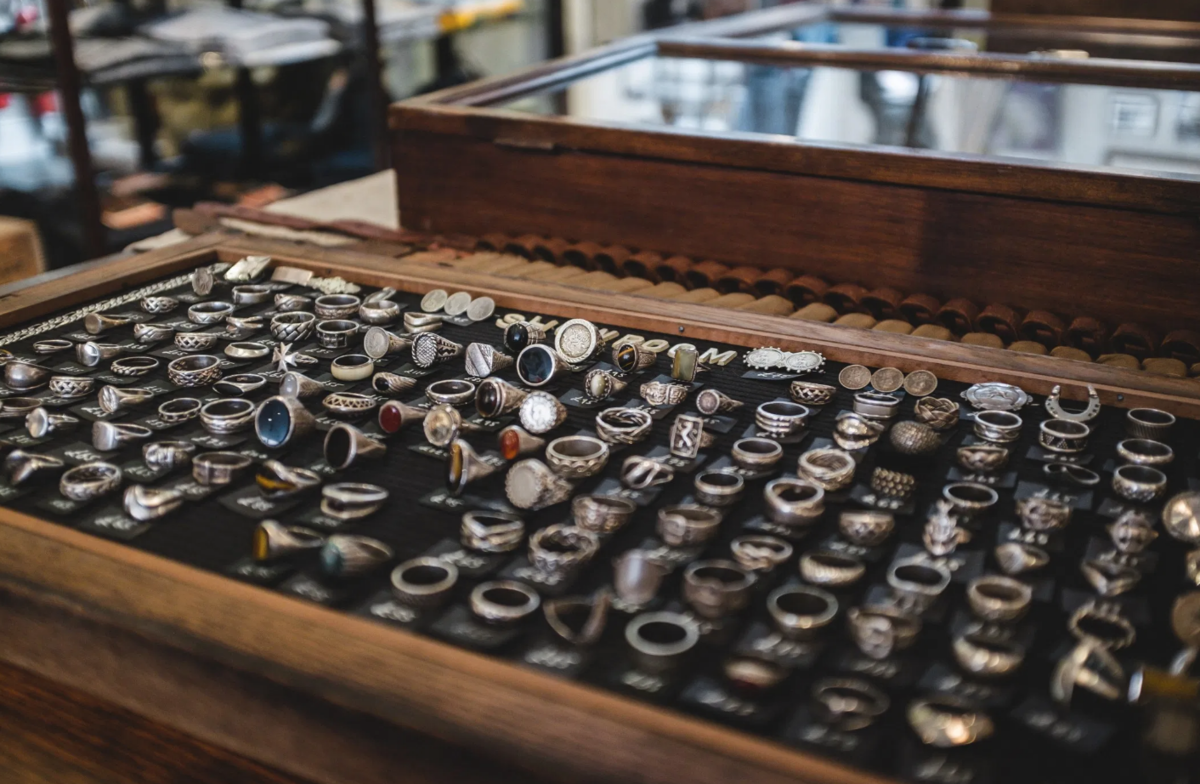 I imagine when you've lovingly restored something it must be hard to let it go - like an artist with their paintings! Do you find there is a certain degree of attachment there?
Absolutely - sometimes it can be really hard to let go. The worst is if we get back from a trip with something amazing and the first person through the door takes it. It's like we haven't had enough time to enjoy and appreciate it before it sells. Obviously we are a business and have to make money to pay everyone on our team, our rent etc, but sometimes I wish we could hold on to it a little longer. Obviously there are some pieces that we would never sell. There is one piece in particular that a design team 'lost" that was meant to a rental only item and I still lose sleep over it. A beautiful 1940s hand made flight jacket an RAF pilot had made during WWII from various pieces of issued kit. It was a real Frankenstein of a piece and I bought it along with a load of photographs of him wearing it from his daughter. I am never going to find another one, truly a one of a kind item.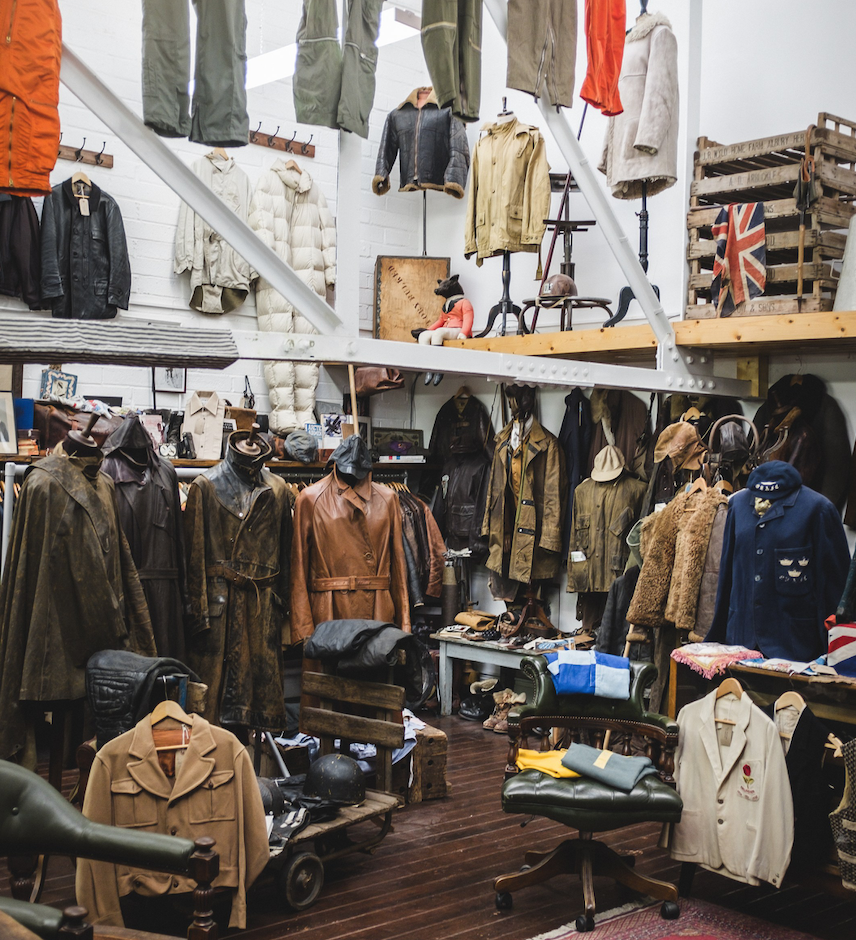 Oh my word that is heartbreaking. I hope it finds its way into appreciative hands in the end. You and Roy must have some pretty great stories about acquiring pieces. Any that really stand out?
Ha the best are not printable...but I think half the fun for Roy and myself are the people that we meet out on the road around the world. I have worked on some people for years before they even let us in the door to talk let alone buy anything.

My last time in NYC was interesting, this was back in October at the last Kingpins show. Roy and I had worked the first day of the show and the next morning I was at the Port Authority waiting for a bus at 5am ahead of a 3 hour coach ride out to meet someone for the first time. It was my first bus ride across the US and it was an interesting experience. The Port Authority at 5am is quite the scene, especially after not much sleep and the conspicuous bulge of buy money in my pocket. The bus was crazy, a mix of people that had been either working or partying all night. 3 hours later the bus stoped in the middle of a forest and I got out but no-one was there to meet me and my contacts phone was on answer phone. They finally turned up and took me to a lock up in the middle of nowhere.

I did have a banjo playing in the back of my mind, but it was all good and I bought an amazing aviation collection from them, but I have to admit I was glad to make it back to Manhattan in one piece!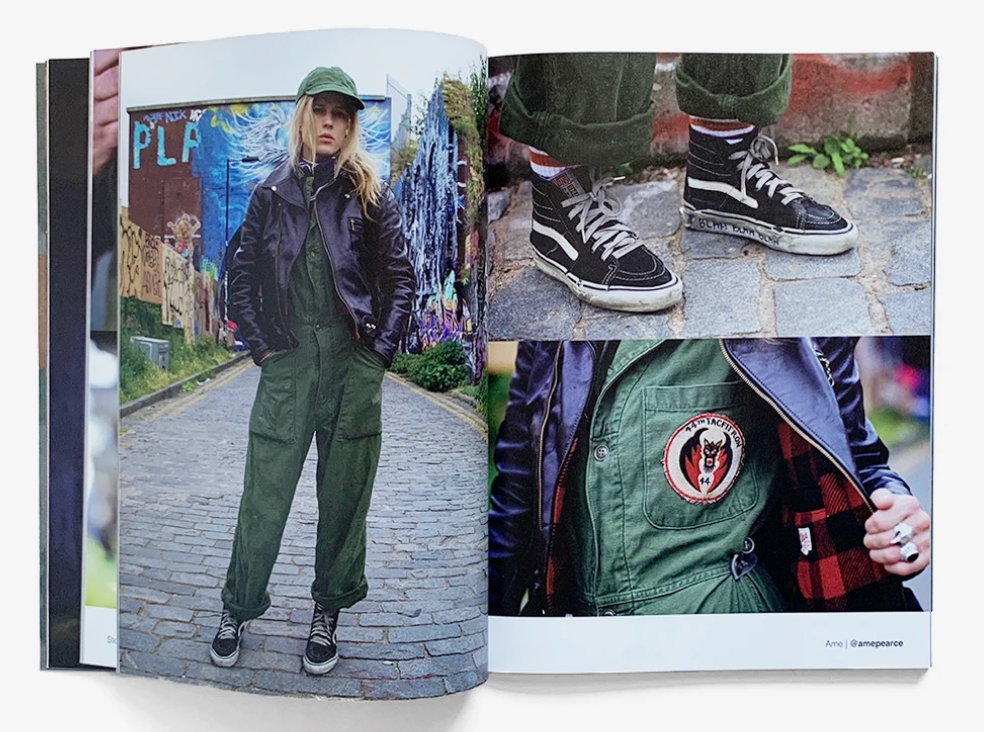 Let's talk about WORN. For those who don't know WORN is a beautiful reference tool pairing essential Pantone colors with vintage garments and actual-size printed details. How did the idea and collaboration come about?
Sue Barrett has been a long term friend and confidant, we had worked on early publications and we liked the combination of her point of view and ours; throw in the fantastic photography of John Turner and we had ourselves a pretty great mix. We really liked the combination of pieces from our archive, blended with street style shots of friends of the business with both aspects being presented with a shared thematic. In no way were we trying to predict trends, just showing a point of view. We wanted to create something beautiful that would be as relevant 5 years down the line as when we made it, and hopefully something that people will values as a resource and refer too again and again.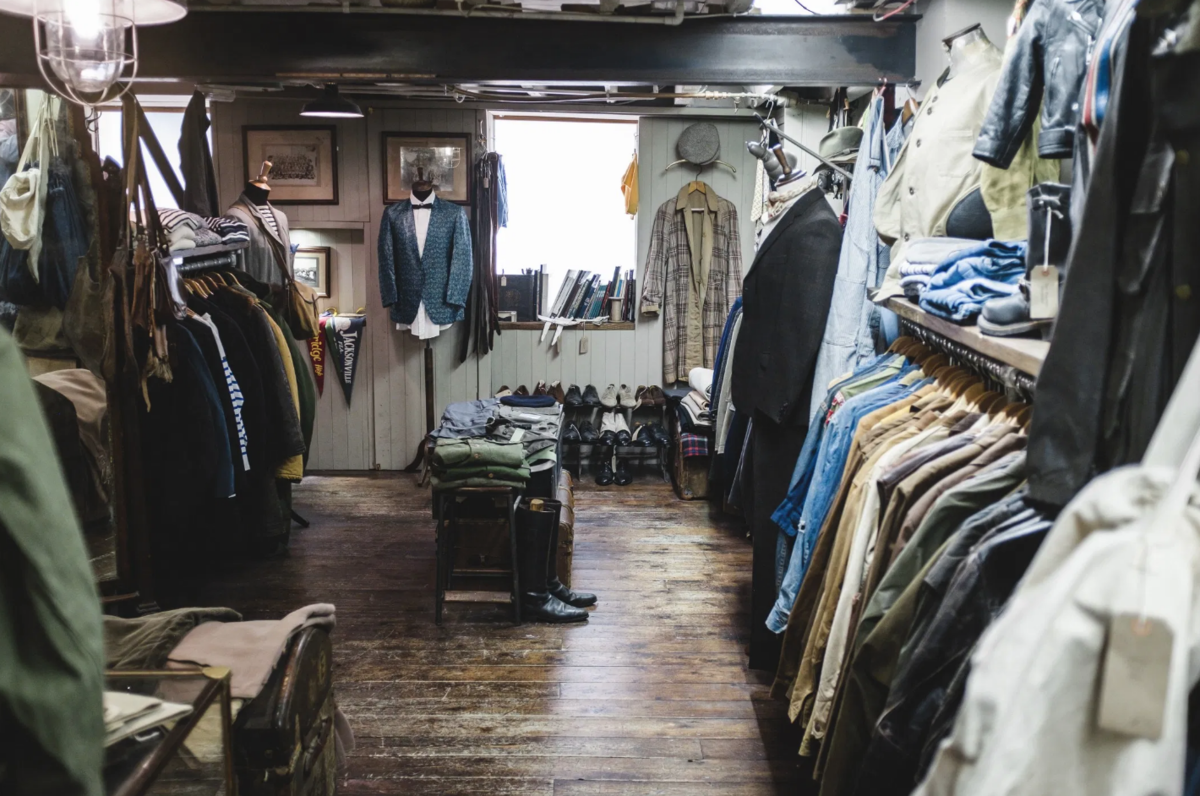 You and Andrew Olah - Founder of Kingpins Show - seem to have a pretty great relationship and friendship. How did you two meet?
The first ever Kingpins show we attended was in Amsterdam back in April 2014. The show had been on our radar for a while after hearing good things about it so we went along to have a look. Straight away we could tell that these were our kind of people. The venue at Westergasfabriek was amazing, you got lunch delivered by locals on bikes, there was a bar, the bar was free, there was music and it was a who's who of the denim world. The vibe was great. We knew we wanted to be a part of it. Fast forward a month and we are visiting Toronto. We were in our friend Rogerio's shop Flashback Vintage, and knowing Rogerio we were probably smoking cigars or having a glass of something while looking at photos of his latest vintage finds or most recent classic car purchase. In the midst of this, Andrew Olah walks through the doors. Rogerio was a mutual friend and made the introduction and the rest is, as they say, is history. We have been part of the Kingpins furniture ever since and are now lucky to count Andrew as a friend.
Images copyright The Vintage Showroom