Meet the Maker: Mata Quilts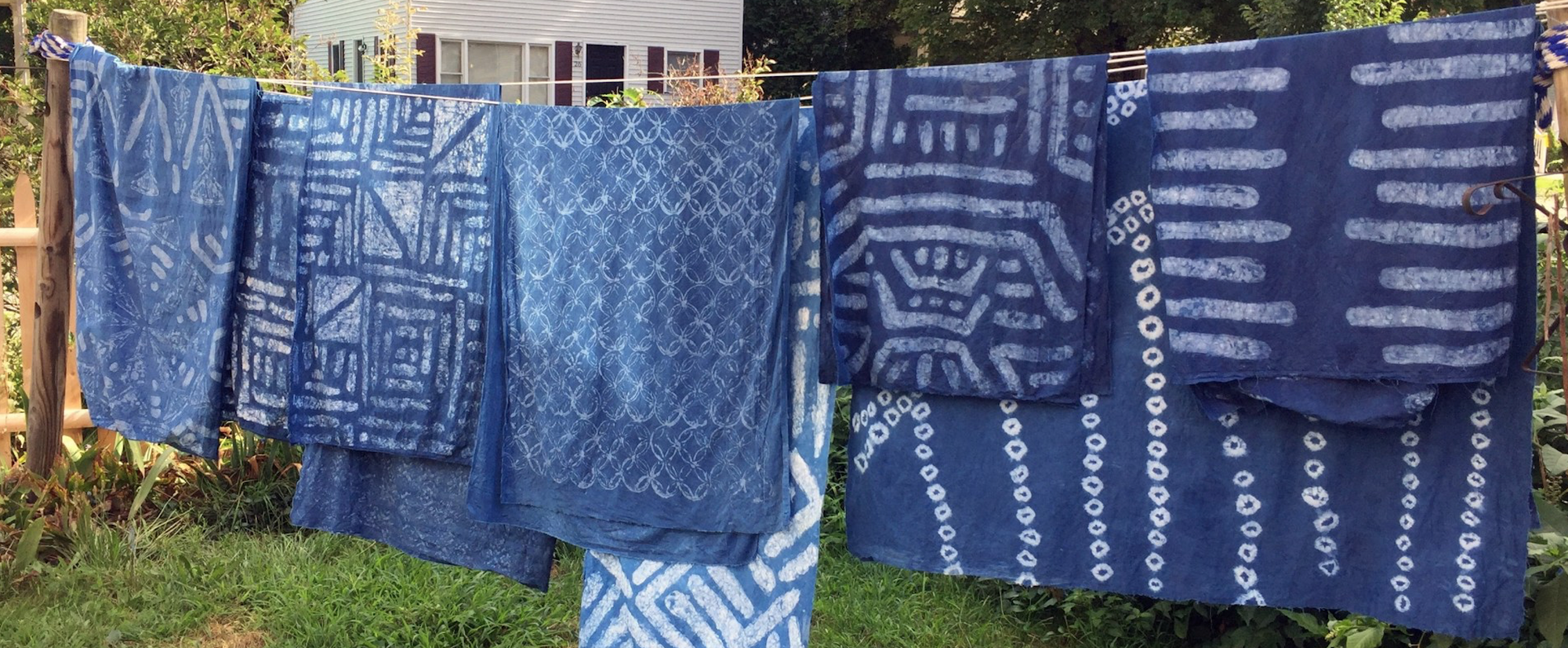 A life changing year living in Kutch, India was the inspiration behind Mata Quilts. Overwhelmed by the textiles, the colors, the techniques and the people she met, American born Lindsay Carone wanted a way to not only share these fabrics with the world, but to support the artisans who had given her so much of their time and affection during her stay.
Mata Quilts is an experimental fusion of the traditions she learnt in Kutch as well as her deep respect for the rich quilting techniques in the United States. With an emphasis on environmental sustainability, Lindsay uses plant-based natural dyes, repurposed materials, and sustainably-sourced block print fabrics to create unique one of a kind pieces.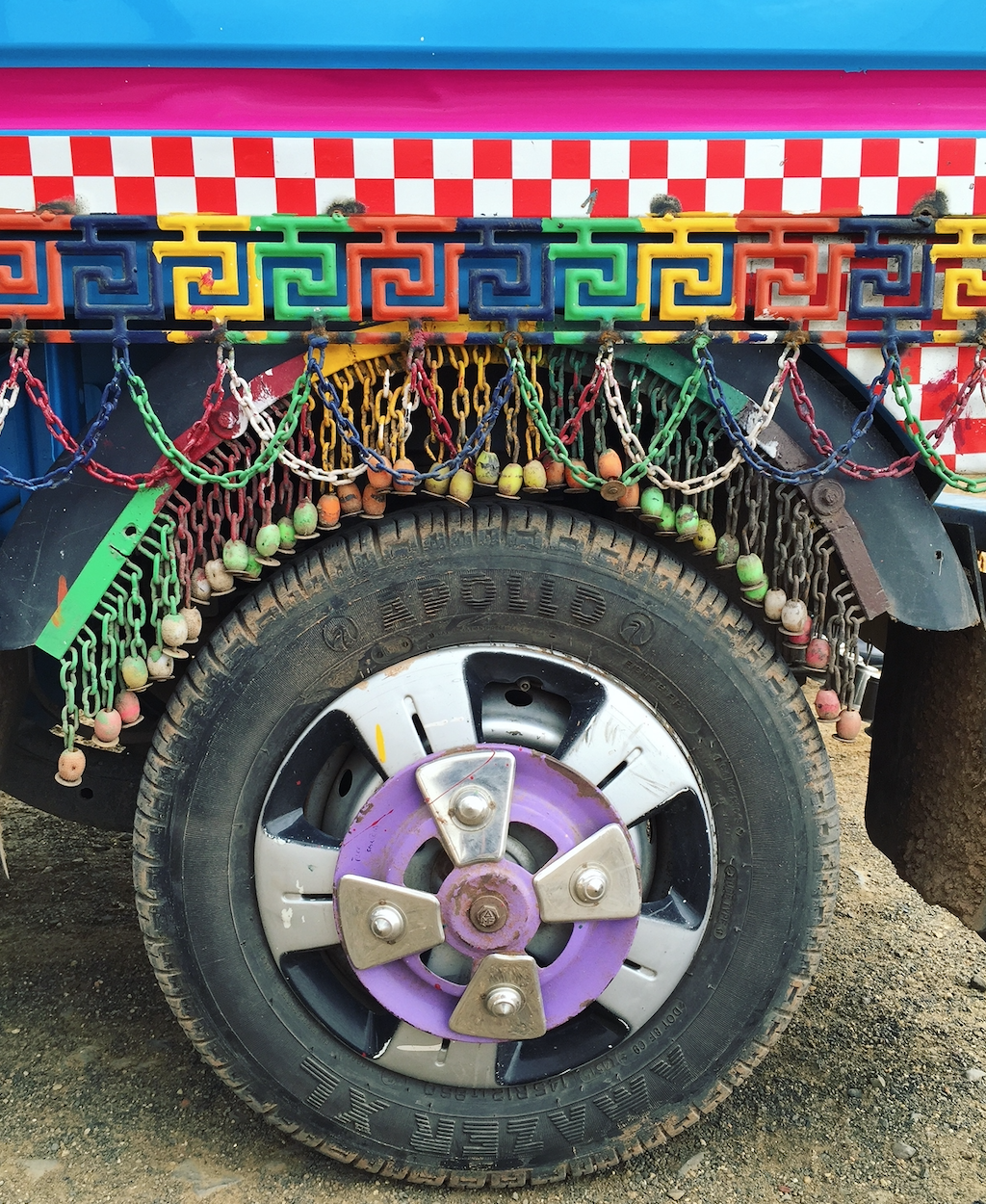 It seems like your time in India deeply affected you and gave you real purpose. What it was about this experience that inspired you so much?
It really did! I got to spend a little over a year living in the Kutch region of Gujarat, India through a Fulbright Grant in 2015-16. During my time there, I learned a lot about new ways of making textiles, using waste plastic combined with traditional techniques like weaving and embroidery. Blending these heritage crafts with very contemporary waste material was a really fascinating point of entry and really meant I got a crash course in the many traditions still practiced in this extremely craft rich region.


The thing that inspired me most while living there (and still does!) is the impulse to decorate absolutely everything - from the family cow to the trees alongside the road. India is a cacophony of color and texture, bold graphics, blinking disco lights, and flower petals.


This heavily embellished way of interacting with the physical world feels, to me, like an ecstatic gesture full of gratitude and reverence for the magic in everything, making the mundane seem sacred.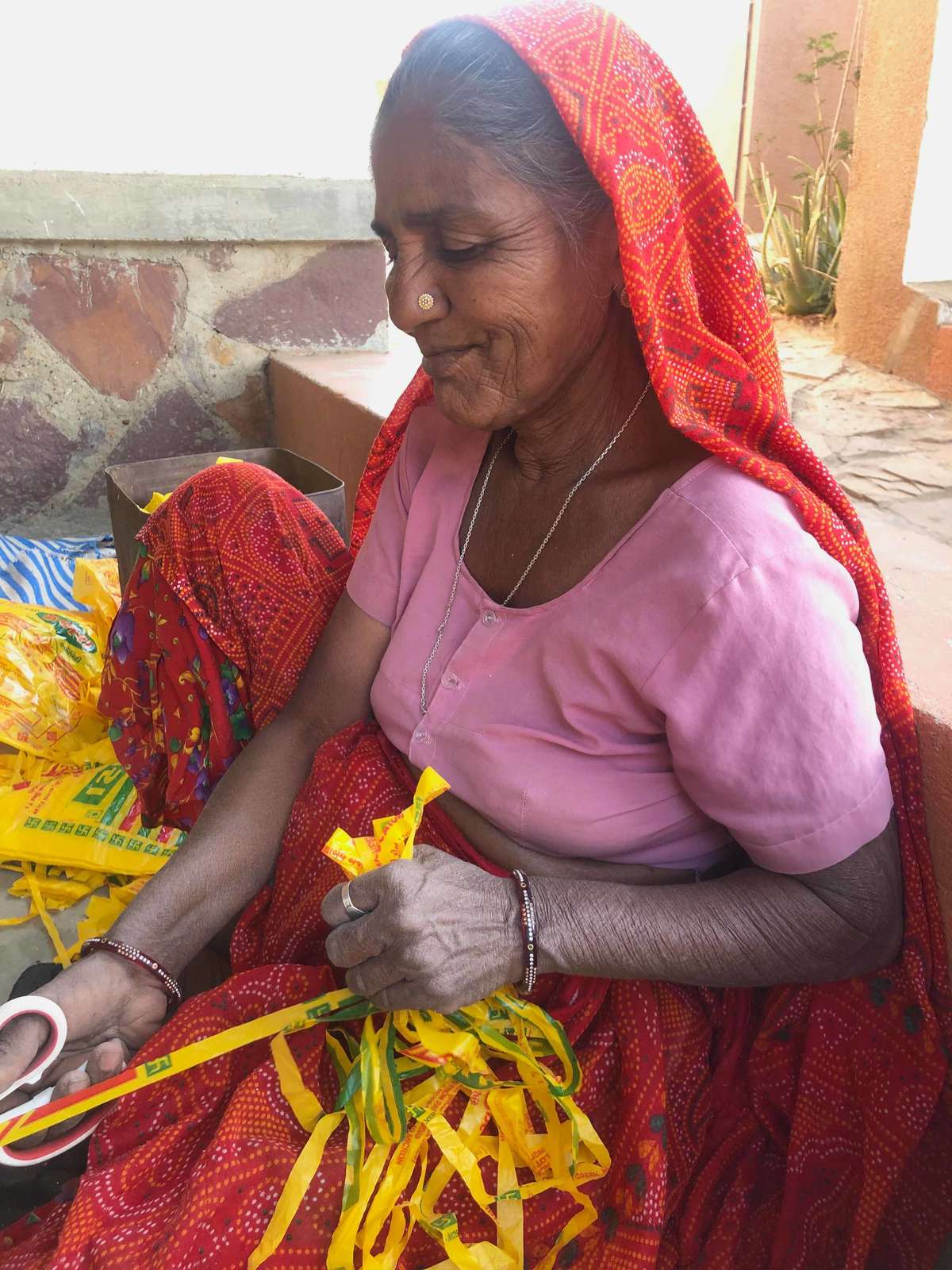 Was there anyone you met there that really inspired you?
So many inspiring people who were (and continue to be) so warm, welcoming, and generous with their knowledge, skills, and creativity. I could go on and on about all of them but to avoid getting played off the stage, I'll keep it short and tell you about Raji ben and Nanu masi. These amazing women were at the helm of the Recycled Plastic Weaving initiative. They are true craftswomen, always pushing limits of materials, adapting, and innovating new spins on old tricks.


Every morning, they'd greet me by taking my hands in theirs and exclaiming, "Jai Mataji!" meaning praise the respected Mother (goddess), with deep eye contact and the most genuine smiles. I wanted to carry that heartfelt, matriarchal warmth with me everywhere so when I was considering names for my brand, I chose Mata with Raji ben and Nanu masi in mind. I also love how Mataconnotes the idea of a quilt as a lovingly handmade grand/motherly heirloom piece and reminds me of them.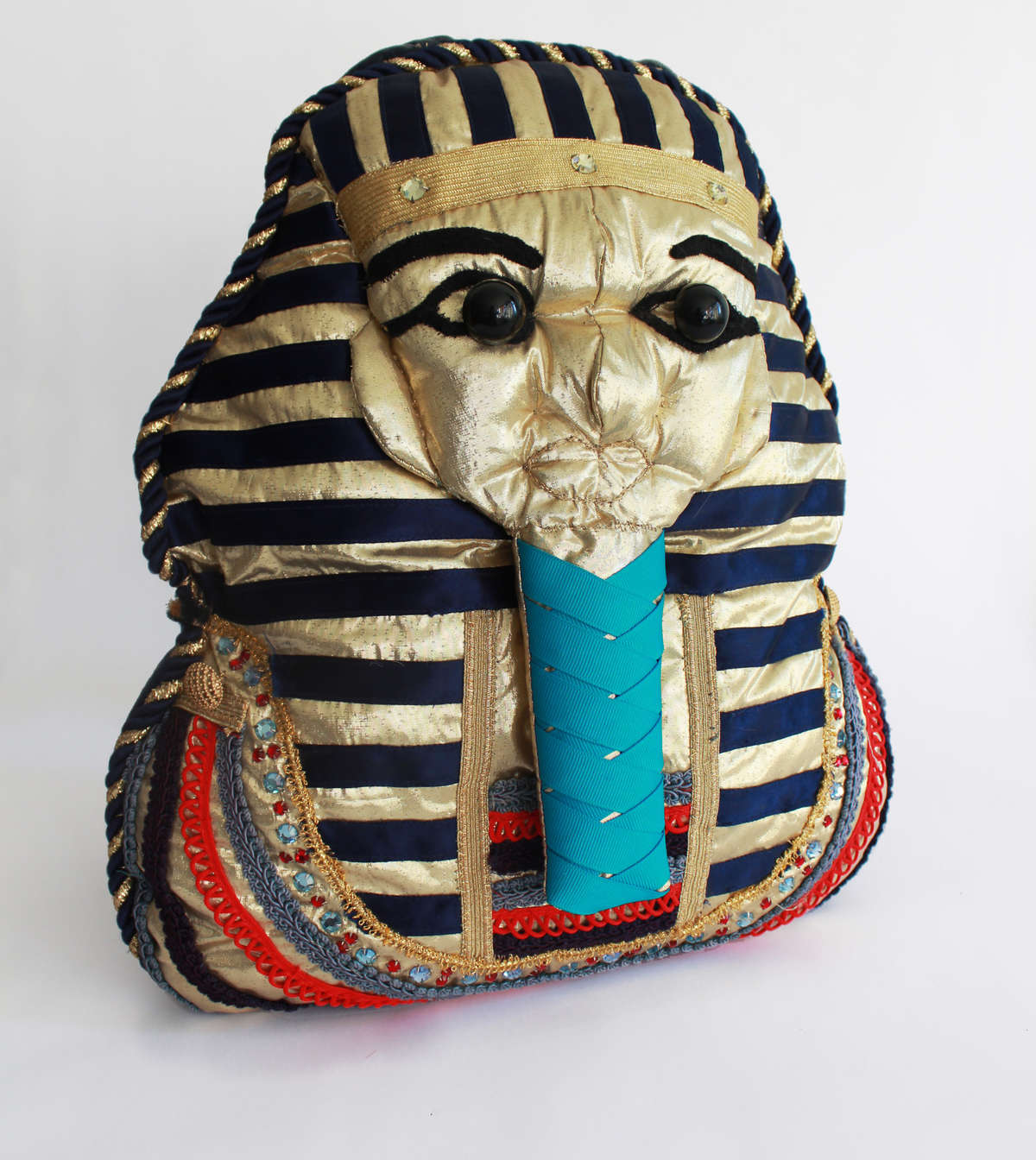 How did you first get hooked on the art of making? Was it always a childhood hobby?
My mom is also an artist and was an art teacher, so I grew up in an environment where creativity was really encouraged. I've been interested in fabric for as long as I can remember, from mediocre attempts at making Barbie clothes, to running around in the woods collecting berries and trying to dye my grandpa's handkerchiefs with them. When I was 9 or 10 years old I took classes in a local sewing shop. It was there that I made my first quilt, among other things (like scrunchies because it was the 90s).


By the time I was in 8th grade, I was pretty adept with a sewing machine and when we were assigned to make a pillow in school for "Home & Careers" class, I made a very elaborate recreation of King Tut. My teacher gave me a low grade as she didn't believe I'd actually made it myself! It was my first of many fabric sculptures and I still remember being shocked as I stitched it together and watched it come to life. In spite of its ill reception, I think of that pillow as a foreshadow of what would eventually be my career. Isn't it funny how these things turn out?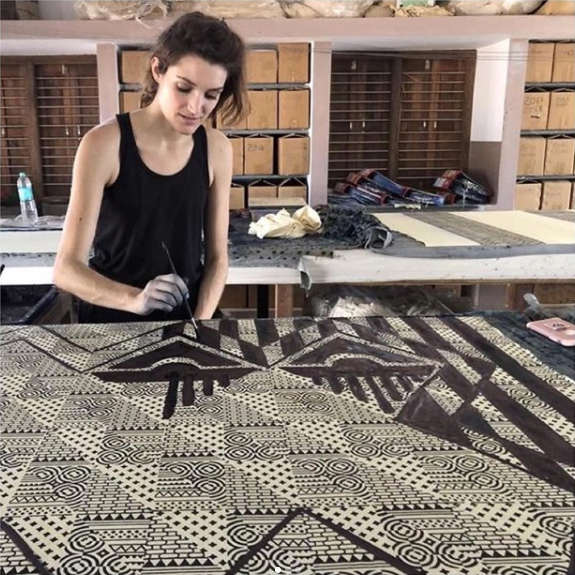 How do you decide on the design of a piece, or does it develop through the making process?
The latter! I very rarely "design" a piece in advance. There isn't really a formula for how I work...which is something I'm trying to work on for business sake, but also to understand and embrace in a creative sense. My process is intuitive so I follow impulses rather than preconceived ideas. Computers or even scaled-down sketches don't typically work for me because I need to jump right in and start making. For example, with the painted indigo pieces, I just start painting the resist paste and see what happens. With everything else, there's a fair amount of trial and error. Luckily, in the case of errors, fabric is so forgiving so seams get ripped out and the fabric can always be re-made into something else (lately: masks) and I trust that I'll eventually figure out what that something else is.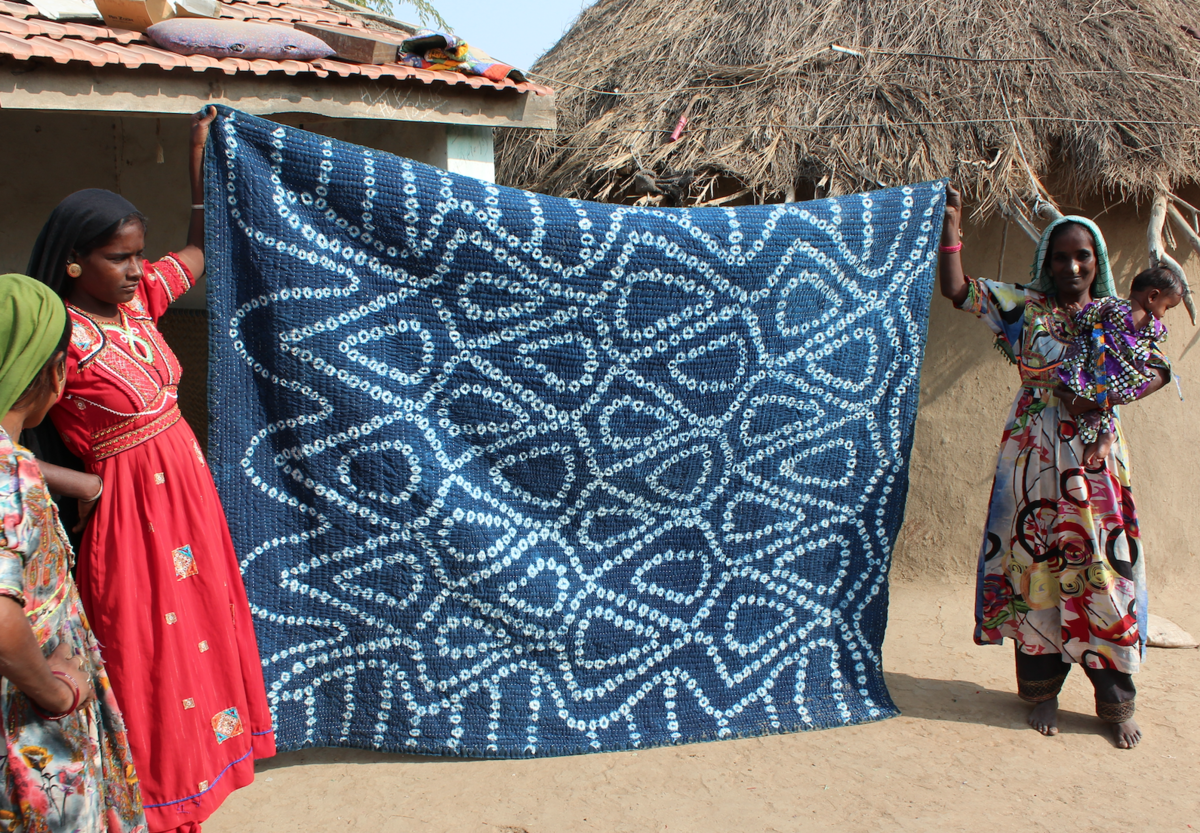 We obviously love your indigo pieces – what pieces are your favorites?
Those are some of my favorites too and where this whole brand began for me. I love the painted quilts. I came up with this technique kind of by accident. After I came home from India, I was trying to come up with a way I could do block printing in my backyard. The resist paste I made wasn't so good for block printing but I quickly discovered that it worked great for painting and that's how the painted indigo series was born.


I also really love the Nantahala bandhani quilt. Remember the solar eclipse back in 2017? This quilt was born out of another road trip into the "path of totality" to watch the big event. Tying these bandhani knots on the 30+ hour road trip from Rhode Island to the Nantahala National Forest in North Carolina kept me entertained when it wasn't my turn to drive. I love how the little circular bandhani marks kind of remind me of the glowing halo of the sun when it was blocked out by the moon.


After I dyed it in indigo, I brought it to Kutch where all of the top stitching was completed by a lovely woman called Amli.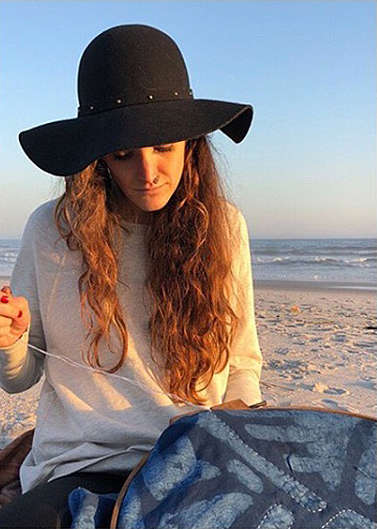 How do you source your fabrics?
Historically, quilts have almost always been made from fabric that had a previous life: commonly worn out clothes, and other items like feed or seed sacks or general bits of fabric were saved and used to make quilts. This is true of quilts from all over the world and with my penchant for reusing and recycling everything (I tend to be extreme with this and have been called a "re-psycho" at times), this is what got me hooked on quilting in the first place as a kid.


In light of this tradition, all of my painted indigo pieces are all upcycled cotton, which I often find by scouring thrift stores, among other places. Sourcing quality second-hand fabric in India has been a little trickier and isn't always possible so it's definitely a work in progress.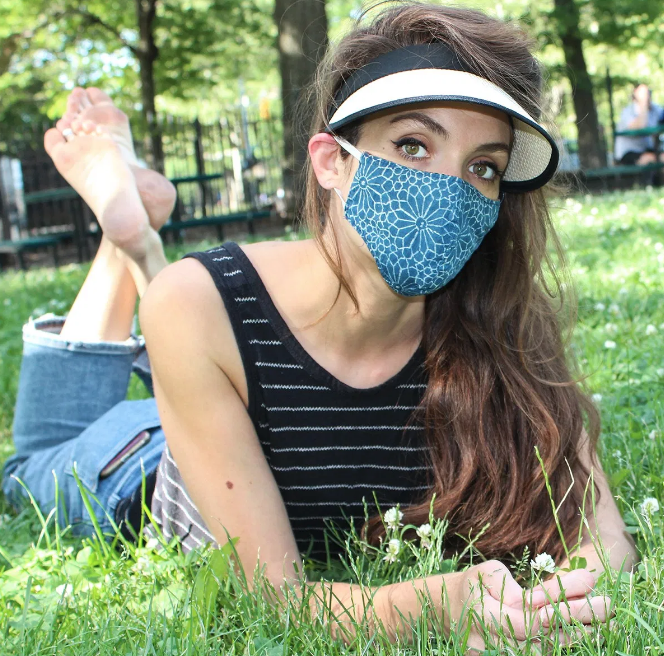 What's next for Mata Quilts?
I'm growing my own indigo this year! I belong to a couple of community gardens here in Brooklyn and I'm trying my hand at indigo, madder, weld, marigold, and other various dye flowers. I successfully grew a nice crop of indigo a few years back while living in Rhode Island and (I am extremely embarrassed to say) I ruined it all in the process of trying to make a dye bath. Hopefully this season won't end with a sob story.


The short term answer is: masks. I've been making so. many. masks. I'm a one-woman assembly line and I'm trying to crank 'em out as fast as possible to keep up with orders. I was reluctant to start making masks at first but I'm grateful to be making a product that people need and are loving. I'm currently prototyping new silk masks that I'll be releasing in the next week or so!

Other than that, what's next is a great question. I've been working on new block print designs and I'm itching to get started with them. I hope to be able to return to India soon and pick up where I left off. I'm hoping that's sooner than later!